The Elephant & Castle shopping centre used to be owned by Godfrey Bradman, the property tycoon who redeveloped the City of London's Broadgate estate in the 1980s.
Bradman was originally selected as the council's development partner for the E&C regeneration back in April 2000, but his masterplan came to an abrupt end when Southwark terminated negotiations in April 2002.
The shopping centre was then sold to a joint-venture between Kuwaiti real-estate group Salhia and West Midlands-based regeneration developer St Modwen for £29m in 2004.
Having lost out to Lend Lease in its 2007 bid to be the council's regeneration partner for the Elephant including the Heygate, St Modwen put forward its proposals to the council for the redevelopment of the shopping centre. But it was knocked back due to the large number of residential units it wanted to build on the site; St Modwen said it needed to include 1000 residential units in the development to make it viable, but the council said it would refuse to consider more than 500.
As a result of the stalemate, St Modwen sold the shopping centre in 2014 for £80m to Delancey DV4, a developer funded by George Soros, managed by Tory donor Jamie Ritblatt, registered in the British Virgin Islands and which has been accussed of 'aggressive tax avoidance'.
Former deputy leader Kim HumphriesDelancey, which is also developing neighbouring site (Tribeca Square), has employed former deputy Southwark council leader Kim Humphries to advise on its development and lead its consultation plans. Delancey was originally aiming to submit its planning applicaton by May 2015, but it seems this has now slipped. We can only assume that the stand off continues with the council over the number of residential and affordable housing units proposed.

CGI of the new shopping centreSo it would appear that once again Southwark is being held over a barrel by developers at the Elephant. Their message to the council is simple: "agree to our proposals and make concessions on affordable housing provision, or we'll sit on the land and your regeneration won't happen any time soon."
The question now is whether Southwark will roll over as easily as it did with Lend Lease.
Another question is whether Southwark and Delancey will take into consideration the campaign to save The Coronet. The Coronet takes up a sizeable part of the shopping centre site. A music and event venue, it has also been a cinema and music hall dating back to 1872 and is a popular local institution. Attempts are being made to try and have it listed on the basis of its Art Deco interior and exterior, which currently remains hidden behind its blue corrugated facade.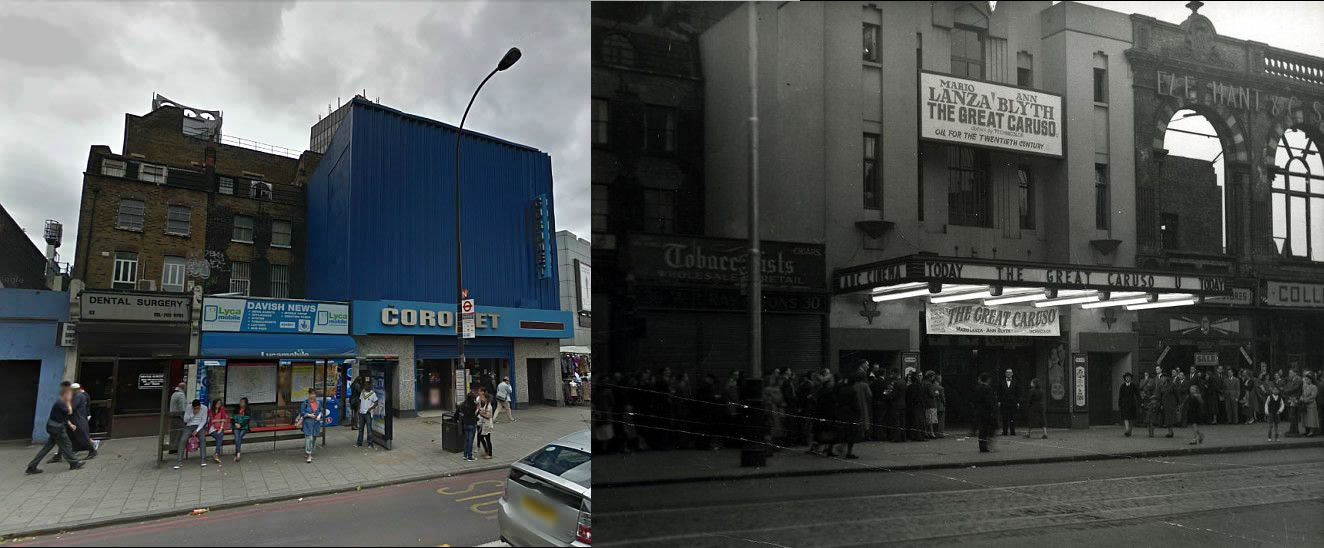 The Coronet today(left) and as ABC Cinema in 1951 (right)