David Cameron's announcement that the government will be regenerating 100 council estates across the country, should send a chill down the spine of every council tenant and leaseholder in the country.
This, combined with the Housing & Planning Bill that's being railroaded through parliament, has been interpreted by many as the end of social housing. It is hard to disagree.
Here in Southwark, we know how these estate regenerations - full of promises of replacement 'social' housing and rights to return - usually end up. The Heygate is the most notorious example, but it is just one of many:
That's a net loss of 4,275 social rented homes as a direct result of Southwark's regeneration schemes to date and the GLA has predicted that Southwark will lose 2,051 social rented homes as a result of schemes in its current pipeline (far more than any other borough). In addition, we can't even be sure that the replacement social rented housing provided isn't actually affordable rent or won't morph into it - see the CPO Public Inquiry, our corporate complaint and this local news article for evidence of this.
Southwark's estate regeneration pipeline
Despite widespread criticism, Southwark is ploughing ahead with further regeneration plans, largely informed by a Savills 'Asset Performance Evaluation' undertaken last year (the assets being our council homes).
Savills's evaluation informed the Council's Housing Asset Management Strategy, which says that "11.5% of the stock (4,167 units) has an NPV [Net Present Value] which is below zero". These negative value assets are located on a number of 'High Investment Needs Estates'1 and Savills has recommended that in their case "options be explored with residents as to whether a small scale redevelopment or regeneration scheme may deliver better outcomes than direct refurbishment."2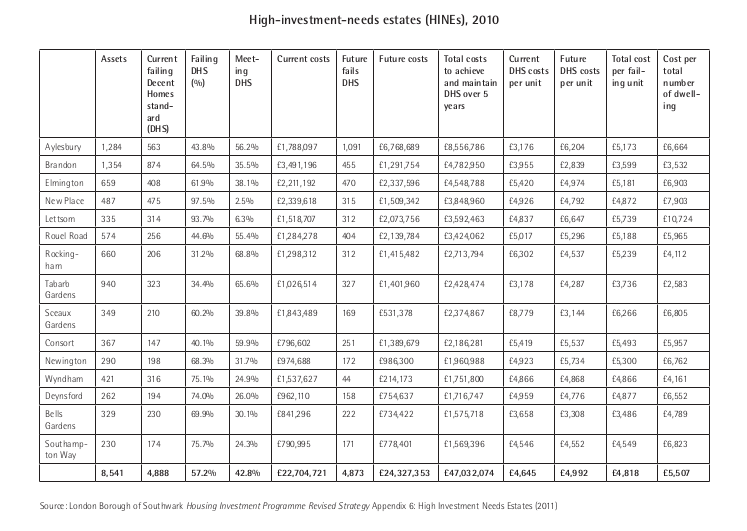 We blogged about this in December and noted that Savills is just as happy selling off Southwark's high-value assets, as it is identifying those low-value assets that could be candidates for demolition. Savills also prepared the notorious viability assessment that allowed Lend Lease to slash the social rented housing on Elephant Park (the New Heygate) to just 82 social rented units.
Southwark Council homes auctioned off by Savills in Nov 2015
So it comes as no surprise to learn that Savills are the brains behind David Cameron's big idea of 'regenerating' 100 council estates, supplied by its Cabinet Office report 'Completing London's Streets'. The report happens to feature a photo of a Southwark estate, the Brandon, to illustrate how the estate's generous green spaces constitute a "housing typography" that is "deeply inappropriate for current and coming decades".
Page 18 of the Savills report (Completing London's Streets)
The report also uses the Nelson/Portland estate on East Street in Walworth as one of 6 case study sites to expound its ideas (Site C). Two other estates identified by the 35% Campaign are the Glyndon estate in Woolwich (Site B) and the Ampthill Square estate in Camden (Site A). The estates are not easily identified in the report, they are not named and have been disguised by flipping and rotating their layout plans.
Nelson/Portland estate revealed as Site C on page 99 of the Savills report
Below Savills explains that their case study estates "do not represent any current, existing or proposed scheme", so the residents of Nelson/Portland, Glyndon and Ampthill Square estates can rest easy in their beds…
There is an alternative
If local communities are to be protected then regeneration has to mean something other than state-sponsored gentrification championed by the property services industry, which makes great profit from it in every which way.
Refurbishment needs to be considered. And if building new council homes is costing £383k each, when homes on 'high investment needs estates' can be brought up to Decent Homes Standard for a fraction of this, then there is no reason not to do that.
PS: Housing News from Australia
Lend Lease has taken all the lessons it has learnt in London back home to Sydney, where it has offered the Heygate's redevelopment as a model for solving the city's own housing problems – fortunately not everyone is convinced: http://www.smh.com.au/nsw/will-poor-be-cleared-aside-for-key-workers-in-revamped-sydney-housing-estates-20160129-gmh7n8.html
Footnotes: